Partner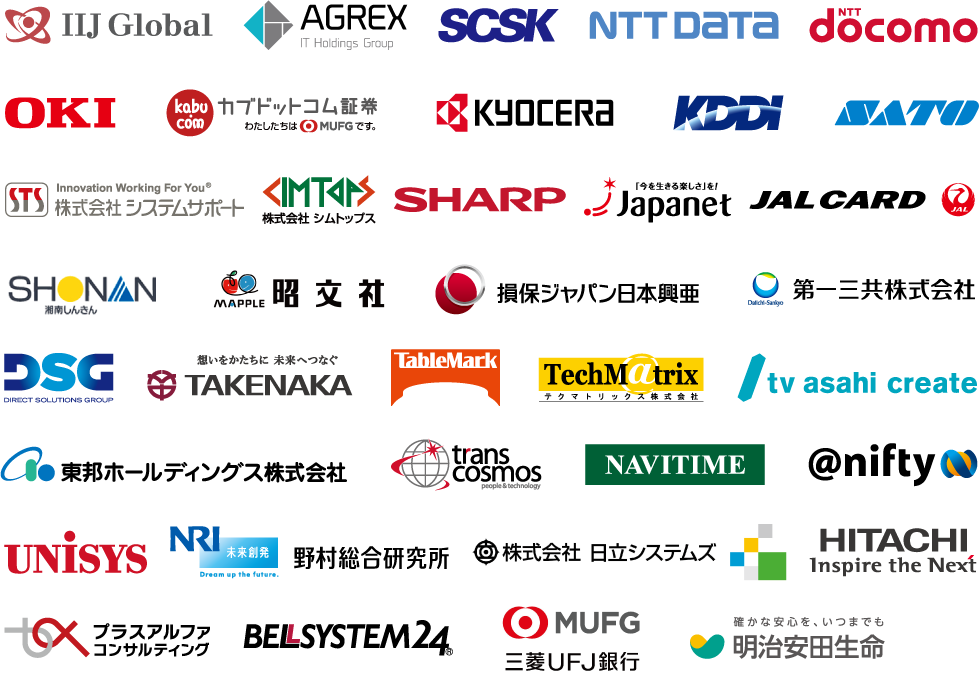 information and communications
Ascendia Inc.
ITOCHU Techno-Solutions Corporation
ASC Japan Inc.
SCSK Corporation
NTT Communications
NTT DATA Corporation
NTT DOCOMO, INC.
MC2 Co.,Ltd.
OAS Corporation.
KDDI CORPORATION,
SIGMAXYZ Inc,
JAl CARD,INC.
Cegedim K.K.
SoftBank Mobile Corp.
T&S INFORMATION SYSTEM Ltd.
TechMatrix Corporation.
Nihon Unisys, Ltd.
Nomura Research Institute, Ltd.
PFU LIMITED
Hitacgu Systems, Ltd.
Hitachi, Ltd.
FUJITSU LIMITED
Mizuho Information & Research Institute, Inc.
MITSUI KNOWLEDGE INDUSTRY CO., LTD.
FELLOW Inc.
Vext Inc.
Otsuka Pharmaceutical Co., Ltd.
Toho Pharmaceutical Co., Ltd.
Nihon Chouzai Co.,Ltd.
Computer and communications equipment and OA equipment
finance and insurance industry
DSG Limited
Tokyo-Mitsubishi UFJ,LT
Nichii Gakkan Company.
Hitachi High-Tech Fielding Corporation.
Kanagawa Prefectural Government
Tokyo Metropolitan Assembly
Toshima ward assembly